Welcome to Our Parts Department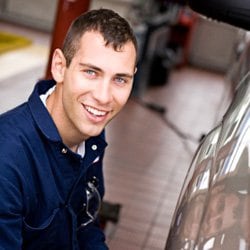 We Have Ford Parts and Accessories
Ford offers Blandon, PA customers many top models to select, and Haldeman Ford of Kutztown has new and used models available for sale near Fleetwood, PA. Ford has a reputation for durability, but repairs and parts replacements become unavoidable at some point. The tough Ford F-250 and the popular Fiesta might need routine maintenance that requires replacing certain parts, and our dealership wants to assist those looking for specific components. Our parts inventory could impress you just as much as our vehicle listings.
OEM Ford Parts for You
When a Macungie, PA Ford owner wishes to purchase a new radiator, oil pan, or even wiper blades, original equipment manufacturer parts seem much more preferable than aftermarket ones. Why buy third-party parts when ones made by Ford are available? Ford parts made specifically for a Focus, Bronco, or Maverick seems like the better option for many owners. Our Kutztown service department near Hamburg, PA, wants to help shoppers get the OEM parts they need.
A Wide Range of Ford OEM Parts
What Ford parts could Fogelsville, PA buyers pick? Ford provides OEM replacement options for virtually any part a shopper wants. Brake pads and rotors, alternators, belts, and spark plugs are just a few of them. Belts, brake pads, and spark plugs are examples of parts that eventually suffer routine wear. An alternator is one of those parts you generally don't expect problems with until something goes wrong.
When the time comes for service and parts require replacement work, Ford likely has what the vehicle needs. And that goes for accessories, too. Whether you want new driver's side floor mats, a cover for the truck bed, or a new remote starter, request a Ford OEM item.
Order New Ford Parts
Order Ford parts and accessories on our website. Please call Kutztown parts center to ask any questions. Of course, shoppers could visit our dealership in person to request assistance, place an order, or complete a purchase.